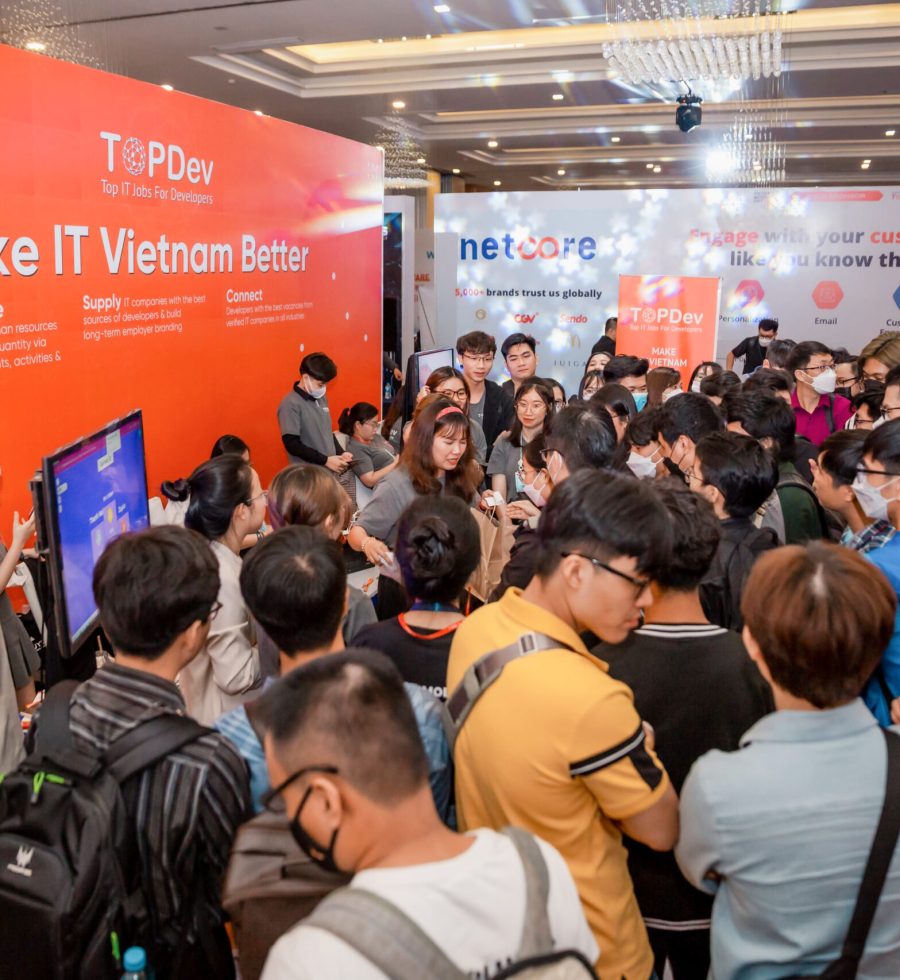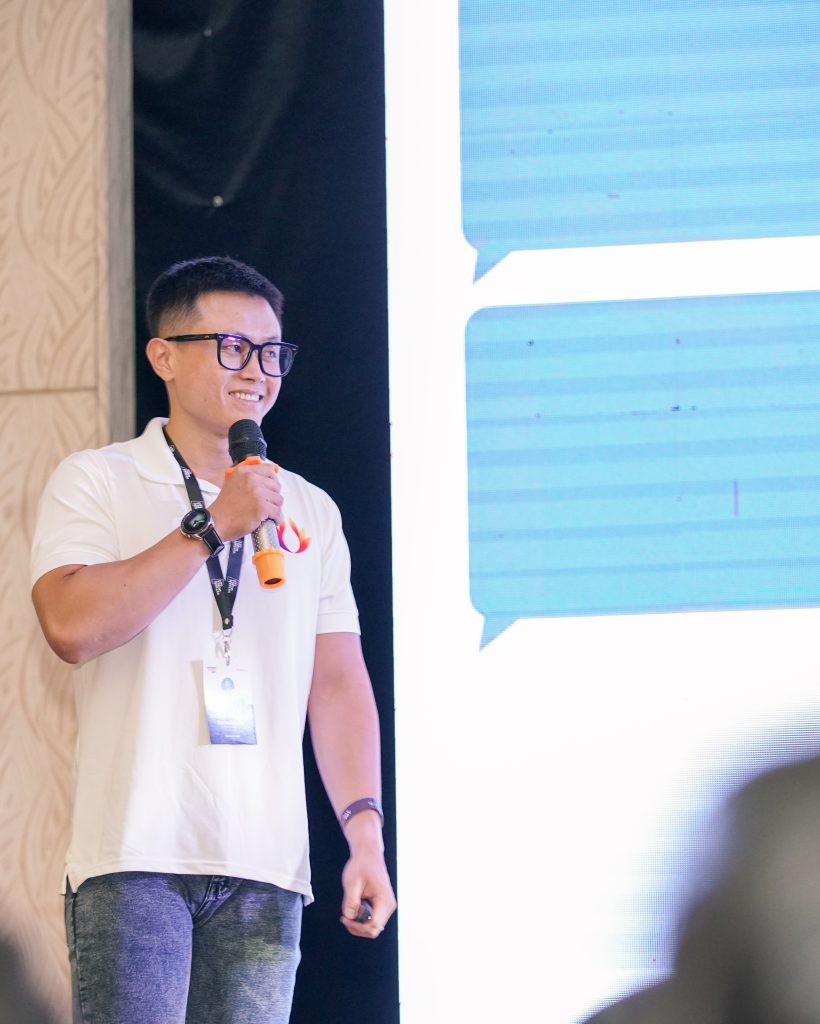 The Largest Mobile Technology Event In Vietnam
Throughout more than 10 years, Vietnam Mobile Day has become the most popular playground & the largest mobile event for all Mobile-related businesses & individuals to update the latest mobile trends & knowledge to facilitate, utilize & monetize mobile businesses.
Strengthen Vietnam Mobile market in triangle elements: Technology, Digital & Commerce
Sharpen

the Mobile internet competitive edge of Vietnam market

Shorten

the Mobile megatrends gap in Vietnam
AGENDA HA NOI (EXPECTED)
16.06.2023
Mobile Economy: Disrupt or Be disrupted
Latest trend of doing businesses in Mobile, especially e-Commerce, Gaming, Payment, Transportation…
Integrate & ultilize new technologies into Mobile Application for Market Disruption like ChatGPT
Mobile CX: Convenient & Fast
Focus on Product development & marketing strategies to launch/ grow successful mobile application/ service
Mobile-first mindset & best practice of mobile experience
Panel Discussion: How to be successful with Mobile Product?
Mobile Infrastructure: Build & Scale
Latest technologies in app development or infrastructure & system design 

New trends of low-code app development
Vietnam Technology Landscape 2023
Latest high-tech like AI/ML/ Data, Cloud, DevOps, ChatGPT… to apply into Vietnam market, as well as some social issues like privacy & security
Panel Discussion: Mobile Gaming In Vietnam
tOPIC VIETNAM MOBILE DAY 2023
Modular Architecture for a Large-Scale Mobile Application
How Gamification Can Boost Customer Engagement in Marketing Campaigns

Data-driven optimizing mobile app UX-UI

Powering Mobile Intelligence: Exploring the Advancements and Applications of AI Integration

How Gamification Can Boost Customer Engagement in Marketing Campaigns

Cơ hội và thách thức của Web3 Applications trên nền tảng Mobile
Mobile engineering career – Risks & Opportunities

Build and Warm The Master Channel
Unleashing Hyper-Personalization to Drive Customer Experiences
Khởi nghiệp SaaS với Mobile App service
Start and build a side project while working full time
Data Maturity model for Organizational impact
Sự phát triển của AI hiện tại cũng như những năm tới
AI-driven Mobile Solutions: Enhancing User Experience and Efficiency
Tăng tốc kinh doanh với Social Commerce trên Facebook & Haravan
Công thức thành công cho doanh nghiệp trên Zalo
Product Management Framework
API Driven Development with Clean Architecture
Mobile và Blockchain: Cơ hội và thách thức cho ngành tài chính trong tương lai.
The State of AI in Marketing and CX

Zero Trust for Edge Computing & IoT

From Highlights to Disruptive Use Cases: The Intersection of Mobile Economy and Blockchain
The security pain point in E-wallet start-up and some Self-paracetamol
Vì sao SAAS trên di động vẫn là thị trường rất lớn trên toàn cầu?
Building smarter mobile apps with on-device machine learning

Vietnam Technology Landscape: How companies get organized better

Mobile Insights in Vietnam
Mobile Revolution: When English Mobile App Meets Generative AI

Innovation Power: Mindset Switching

Xây Dựng Studio Mobile Game Hiệu Quả và 30 Điều Cần Tránh
Truyền thông số & Chuyển đổi số
TaxBook & GPT-3.5 – Trợ lý tài chính doanh nghiệp
Cloud-Transformation & Data-Driven Strategy in mobility era
Customer Journey Mobile O2O
Virtual Human Technology in the era of Large Language Models
Xây dựng và quản trị hoạt động mobile marketing cho doanh nghiệp
Topics are updating>>>>>>>>
eXPECTED NUMBERS IN 2023 EVENT
WHAT WE OFFER FOR TECH & DIGITAL ADVOCATES
From 2011, Vietnam Mobile Day has welcomed more than 200,000 audiences, experts, seniors and businesses owners across Vietnam to come together and exchange knowledge.
Vietnam mobile Day 2023 Tickets
VIETNAM Mobile Day 2023 x K-GLOBAL@VIETNAM 2023

COOPERATION BETWEEN KOREA & VIETNAM

Only valid until – 09.06.2023
LUCKY DRAW now to receive:
Enter LUCKY@VMD2023 to get Discount code 60.000VND for Access & Standard Pass
Have the opportunity to receive attractive gifts

Founded in 2015 by Applancer JSC, TopDev has become Top IT Recruitment platform in Vietnam with IT-focused hundred thoudsands monhtly traffic website https://topdev.vn & IT Jobs Search Mobile Application, 350,000+ Developer profiles & managed the largest Developers Community in Vietnam with 550,000+ IT Followers on Social Media.
TopDev is the organizer of 02 largest annual Tech events: Vietnam Mobile Day & Vietnam Web Summit with the scale of thousand attendees in HCMC & Hanoi. With the expertise & insights in attracting and engaging with Tech community & Developers through both offline & online activities, social media/ blog/ website…, TopDev has become Top IT agency in Vietnam that helps build Employer Brand for hundreds of IT and Tech companies in Vietnam. Moreover, to support & orient the IT Recruitment market in Vietnam, since 2016 annually TopDev has published Vietnam IT Market Reports & HR Reports with the trust & verification of many businesses, organizations & governments.
For Ticket & General Information​​